Timna Copper Mines has operated the aluminium recycling plant since 2004.
Aluminium granules manufactured by Timna are supplied to many countries worldwide and are
typically applied in the metallurgy industry.

Timna's production capabilities for aluminium granules are 1800 tons per annum.
Available grades
Please follow the link in order to view the product specification (chemical analysis and size distribution):
Packaging
1000 kg big bags of 900x900x1200 mm dimension, polyethylene-lined woven polypropylene 5x8 threads per square centimeter (polyethylene impregnation upon request), palletized and containerized into 20ft container.
Product physical characteristics
Bulk density of aluminium granules and aluminium powder
The apparent bulk density depends on the particle shape and size distribution. A wide size distribution yields a densely packed product. Particles, even of high density, when present in a narrow size distribution, can yield a lower apparent bulk density. Typically, the apparent bulk density varies from 0.9 to 1.45 grams per cubic centimeter.
Specific surface area
The specific surface area of aluminium granules is of significance whenever the product is used as a reagent in a chemical-metallurgical reaction. It will affect and, in some cases, control the rate of reaction, efficiency and recovery. The specific surface area is a function of the size distribution, shape and density of the product. It varies accordingly between 1-10 square meters per kg.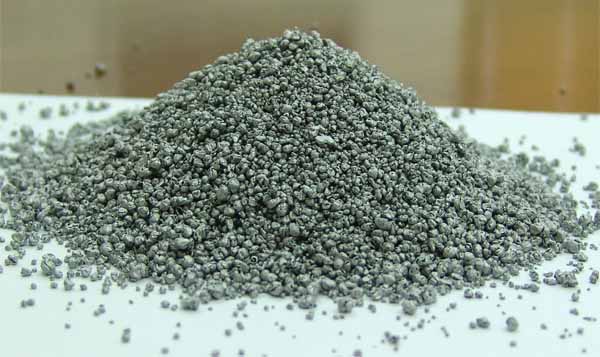 Aluminium granules
Size distribution
1-6 mm
Appearance
The product consists of carbon-free un-oxidized metallic aluminium particles with a silvery appearance, provided in spherical or flat irregular shapes.
Timna process for producing Aluminium Granules
The process is fully-automatic and involves no chemical reactions. The high-clean aluminium metallic scrap from established industry sources undergoes size reduction, elimination of organic matter in the incinerator, grinding and mechanical surface treatment by hammer mills. The resulting aluminium granules are then sized and packed.

Aluminium Granules manufacturing process is actually a process which recycles used aluminium-made goods, such as beverage cans and toothpaste tubes, and contributes a lot to environment.

Raw material - aluminium scrap